Archive for the 'Entertainment' Category
Priscilla Ahn easily makes my Top 5 Vocalist list, so I figured I'd repost this here for those who haven't heard about her.
– – Article originally appeared on 13 June 2008 at The EFP Online. – –
Priscilla Ahn (pronounced Ahh-n not Anne) is a Korean-American singer-songwriter currently residing in Los Angeles, California.
Ahn was born to to Harry and Kay Hartranft in Fort Stewart, Georgia, but later changed her surname to that of her mother. As a young child Ahn lived in South Korea, and upon returning to the United States lived and attended school in Pennsylvania. After graduation from high school, Ahn debated attending a university to study music. She ultimately opted to move to Los Angeles to pursue a music career on the advice of a music professor. That choice has turned out quite well for this young singer/songwriter.
Ahn recently joined the Fall 2008 Hotel Café Tour, and is currently touring with Meiko, Erin McCarly, Laura Jansen, and Ingrid Michelson. In live performance she plays acoustic guitar, harmonica, and kazoo. Although atypical instruments, her talented use of the harmonica and kazoo add a beautiful quality to her songs She – like many other performers – will occasionally use a loop pedal to record and play background vocals in real time. Even being the only artist on stage, Ahn is able to bring a richly layered and complex sound to her shows.
Before the Hotel Café Tour Ahn toured with artist such as Joshua Radin, Meiko, and Cary Brothers. Her music has also been featured on The Tonight Show, Grey's Anatomy, Knight Rider, Men in Trees, The Late Late Show, and the movie Disturbia.
Throughout her career, Priscilla Ahn independently released a self titled EP and as well as a full length album, A Good Day, on Blue Note Records.
No comments
While trying to use CBS' terrible website I came across an odd link at the bottom.  Of all the networks CBS has to have the worst video player, worst percentage of their shows online, and is the most inconvenient to use.  Comedy Central has a great player, keeps their shows online (they even put previous seasons online), and AdBlock works like a dream with their player.  The other networks fall somewhere inbetween.
But, that's not the point of this post.  I thought it was strange that of the nine links at the bottom of the page, one was for Paris Hilton.  I get that she's a popular gal, but in the top 10 of all the links CBS could put on their site?  She's down there with the NFL and MLB.  I think Paris must be a business genius.  She's found a way to sell herself perhaps better than anyone around today.  She has TV shows, product lines, she even gets paid just to show up at parties. It's still a little weird that she has a link down there.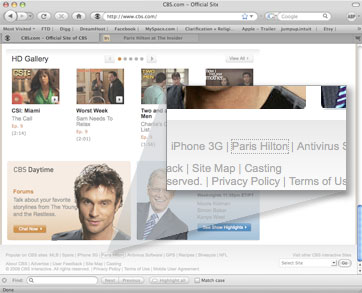 photo: cbs.com
No comments
I really liked this video.   There's a bio at the bottom if you want.
[Bio]
Kate Micucci is a New Jersey born American actress and singer-songwriter currently living in Los Angeles. Micucci spent most of her school years in Nazareth, Pennsylvania where she enjoyed playing outside in the woods and playing classical piano.
Micucci earned an A.A. degree in in Fine Arts from Keystone College. While at Keystone she spent her time painting and making puppets. After graduation Micucci did a small stint watering banana and pineapple plants in Hawaii. Upon returning from Hawaii she decided to go to Loyola Marymount University in Los Angeles where she received a B.A. in Studio Art.
In addition to her music career Micucci has held several roles on US television sitcoms. Her credits include a recurring role as Toni the barista on NBC's Four Kings and a guest star on Malcolm in the Middle, How I Met Your Mother, Cory in the House, and Campus Ladies.
'06 – Four Kings (7 episodes)
'06 – Malcolm in the Middle (1 episode)
'06 – How I Met Your Mother (1episode)
'07 – Cory in the House (2 episodes)
'08 – Husband for Hire (Bubble) -TV
'08 – Bart got a Room (Abby Marcus)
'08 – Finding Amanda (Thin Girl)
'08 – The Last Hurrah (Susan)
'09 – When in Rome (Stacy Harper)
Micucci recently acted in a sold out run of Skirts and Flirts by Gloria Calderon Kellett at the Hudson Theater Mainstage. She is set to star in the upcoming film Bart Got a Room. She has also appeared in numerous television commercials.
No comments