Archive for February, 2009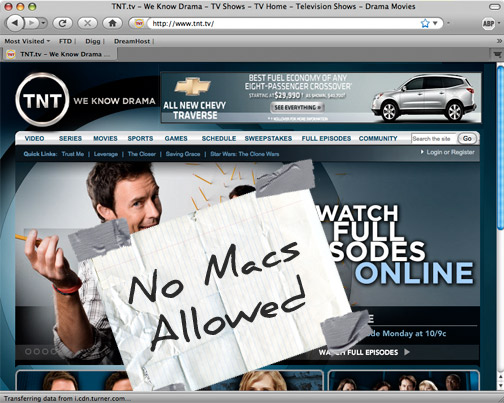 I don't typically watch anything on TNT, but I've heard some good things about Leverage and I like the leading men in Trust Me.   So, I went over to TNT.tv to check out the pilots of those shows.  As it it turns out TNT does not support Macintosh computers.  I jumped over to Hulu which has a direct link back to TNT where, as I already stated, they do not support macs.
According to Gene Munster, Senior Analyst at Piper Jaffray Apple Computer has a U.S. domestic market share of 21%.  TNT has somehow decided that they need not support 21 percent of the market.  This is what TNT says about the issue:
"  TNT.tv would like to apologize for not being able to accommodate Mac     users.  The issue is related to the Windows Media Player, specifically video with Digital Rights Management (DRM). This is because the WMP for the Mac is not supported directly by Microsoft . Our agreement with the studios that produce the shows stipulates that their content be protected (full episodes) from piracy with DRM software. Additionally, WMP is more universal than other platforms like QuickTime and Flash Video for distributing protected content.   "
I can remember a time when the internet was a confusing place.  Nearly every website had a notice that read something like:   "This website best viewed at 800 x 600 resolution using a Netscape browser running Windows 98 and sitting at a computer placed next to a North facing window between the hours of 2 and 3 pm."  We accepted it because that was how things were.  Compatibility hadn't really caught on.
That is not the case today.  I am a big proponent of networks providing online content.  First of all it makes financial sense.  It is very quick and easy to get any television show or movie for free online.  However, it is slightly easier and quicker to go to the networks website and watch the show from them with their ads.  It's a win win situation.  Additionally, At this point all of your competitors are doing it, so you really shouldn't be the one network not playing along.  People are not going to just watch your show on cable.  They are going to take it from one of the dozen websites or torrents where your content is freely available.
I've railed against CBS in the past for having clips – a completely ridiculous idea.  TNT has the full episodes, they just won't let everyone watch them.  I'm not sure if TNT's issue is one of arrogance or stupidity.  ABC, FOX, NBC, and Comedy Central are just a few of the networks that have no issue supporting both Macintosh computers and PCs.  It's really not all that hard.  I mean, really TNT?  You are no ABC.  Why would you think this it is a good idea to cut off nearly a quarter of your market?
No comments
Priscilla Ahn easily makes my Top 5 Vocalist list, so I figured I'd repost this here for those who haven't heard about her.
– – Article originally appeared on 13 June 2008 at The EFP Online. – –
Priscilla Ahn (pronounced Ahh-n not Anne) is a Korean-American singer-songwriter currently residing in Los Angeles, California.
Ahn was born to to Harry and Kay Hartranft in Fort Stewart, Georgia, but later changed her surname to that of her mother. As a young child Ahn lived in South Korea, and upon returning to the United States lived and attended school in Pennsylvania. After graduation from high school, Ahn debated attending a university to study music. She ultimately opted to move to Los Angeles to pursue a music career on the advice of a music professor. That choice has turned out quite well for this young singer/songwriter.
Ahn recently joined the Fall 2008 Hotel Café Tour, and is currently touring with Meiko, Erin McCarly, Laura Jansen, and Ingrid Michelson. In live performance she plays acoustic guitar, harmonica, and kazoo. Although atypical instruments, her talented use of the harmonica and kazoo add a beautiful quality to her songs She – like many other performers – will occasionally use a loop pedal to record and play background vocals in real time. Even being the only artist on stage, Ahn is able to bring a richly layered and complex sound to her shows.
Before the Hotel Café Tour Ahn toured with artist such as Joshua Radin, Meiko, and Cary Brothers. Her music has also been featured on The Tonight Show, Grey's Anatomy, Knight Rider, Men in Trees, The Late Late Show, and the movie Disturbia.
Throughout her career, Priscilla Ahn independently released a self titled EP and as well as a full length album, A Good Day, on Blue Note Records.
No comments